Dubai Airshow: Bombardier says Airbus deal means more U…
Bombardier's sales chief has sought to reassure UK staff over the Canadian planemaker's alliance with Airbus.
Fred Cromer said last month's surprise announcement that Airbus would take control of its CSeries aircraft "would only strengthen Bombardier".
The aerospace and rail company employs 4,000 people in Belfast, with about 1,000 making CSeries wings.
Speaking at the Dubai Airshow, he said the Airbus deal meant higher production and "more wings coming out of Belfast".
"My message to all employees on the CSeries programme, and certainly in Belfast, is to keep doing what you're doing. You are producing in Belfast amazing wing technology," said the president of Bombardier's commercial aircraft division.
The aircraft is at the centre of a US-Canada dispute.
Production of the CSeries has gone over-budget and been dogged by delays. US manufacturer Boeing has complained that the aircraft is being subsidised and sold below cost in the US.
Earlier this year the US Department of Trade sided with Boeing that CSeries sales in the US should be slapped with import duties of up to 300%. A final ruling is expected early next year.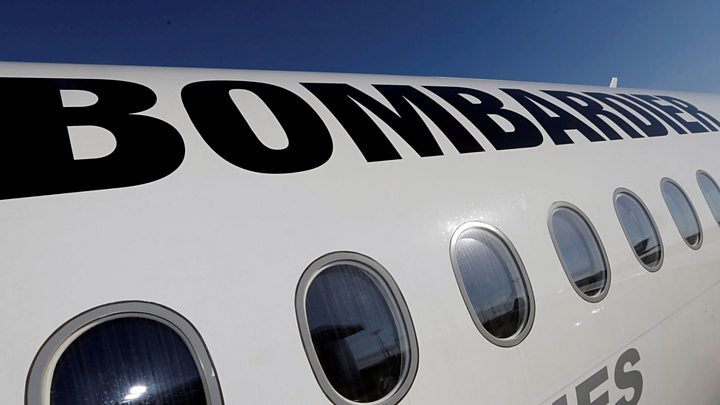 That put a question mark over the future of the programme and a sale of 75 jets to US airline Delta.
Then last month, Bombardier announced that Boeing rival Airbus would take a majority stake in the CSeries, putting its production and marketing muscle behind the aircraft.
'Bigger volume'
Airbus is to expand its production plant in Alabama, which will increase US content of the aircraft and help cut costs. Mr Cromer said this move was "about increasing volume of the aircraft, and that should make people feel good in Belfast".
The Alabama expansion would create more jobs at Bombardier, he said. "It is not a replacement of jobs. The US production line will give us bigger volume and give us access to the US marketplace."
Delta has already said it will not pay the huge import tariffs on its Bombardier aircraft. Mr Cromer acknowledged that the delivery timetable for the Delta order could be adjusted if the trade dispute holds up the order.
He said that an unnamed European airline was considering buying 61 CSeries aircraft, a deal that he hoped would be finalised by the end of this year.
That potentially could help Bombardier if it was forced to reschedule the Delta deal.
Mr Cromer said Delta was committed to the aircraft and was prepared to wait if necessary, although the airline was unhappy with Boeing's action.
Other CSeries customers include Air Canada, Lufthansa and Latvia's AirBaltic.