Paris climate deal: Trump open to staying in, Tillerson…
Donald Trump is open to staying in the Paris accord on climate change, his secretary of state has said, just hours after the White House insisted there would be "no change" to US policy.
Rex Tillerson said the US would stay in the agreement "if we can construct a set of terms that we believe is fair".
His comments come despite the White House earlier denying reports it was softening its stance on the accord.
In June Mr Trump announced the US would withdraw from the pact.
The president said the move was part of his "solemn duty to protect America", painting the agreement as one which aimed to hobble the US economy in favour of countries like China and India.
Mr Trump also said he would "begin negotiations to re-enter either the Paris accord or a really entirely new transaction on terms that are fair to the United States".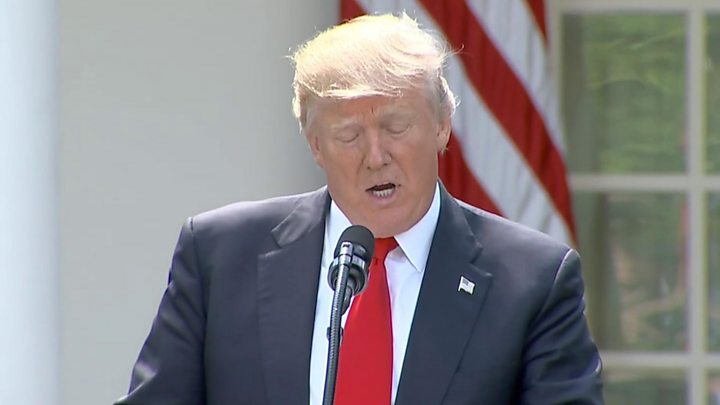 Speaking to US network CBS, Mr Tillerson suggested the US might not leave at all.
Asked if there was a chance the US could stay in the accord, Mr Tillerson said: "I think, under the right conditions, the president has said he's open to finding those conditions where we can remain engaged with others, on what we all agree is still a challenging issue."
This backs up reports which emerged on Saturday suggesting Mr Trump had softened his attitude towards the agreement,
After a meeting of environment ministers, EU climate commissioner, Miguel Arias Canete, said Trump officials had indicated the US would either stay in the 2015 accord or review its terms.
"It's a message which is quite different to the one we heard from President Trump in the past," Mr Canete added.
But later the same day, White House spokeswoman Sarah Huckabee Sanders said: "There has been no change in the United States' position on the Paris agreement.
"As the president has made abundantly clear, the United States is withdrawing unless we can re-enter on terms that are more favourable to our country."
The Paris accord commits the US and 187 other countries to keeping rising global temperatures "well below" 2C above pre-industrial levels and "endeavour to limit" them even more, to 1.5C.
Opponents say withdrawing from the accord is an abdication of US leadership on a key global challenge.